Let Us Cater Your Next Event In Our Own Backyard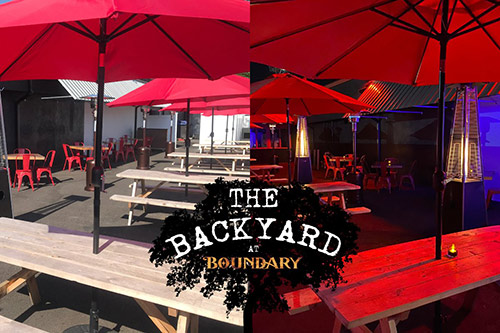 By: / April 15, 2023
Organizing a big party at our outdoor seating area 'In the backyard' of our Boundary Kitchen Bar offers an enjoyable moment while you are exploring the taste sensations that will be offered between sliced buns of handcrafted burgers, BBQ Brisket and maple smoked pulled pork burger, Detroit pans pizza and a lot more. You will enjoy the most diverse of food types that we will offer, from the humble to the mighty. Great food, great service. Seating is based on availability.
Boundary Kitchen offers assorted delights like the smash burger boat with beef patty, melted cheese, house pickles, smash sauce, brioche, fries and pickles. Loaded fries in can tower fries, beer cheese, bacon, red onion, pulled pork, brisket. Served in a brioche bun this beast consists of bacon house slab, spice rubs vary, pickles and the backyard BBQ tray filled with brisket, pulled pork, hot honey chicken, chorizo link, Texas toast, pickles, BBQ sauce to finish off. For the win the chef's plate of petite tender beef, bourbon molasses brine, Yukon mashed potato, smoked vegetables. Smokehouse beef patty, sliced brisket, bacon, aged cheddar, grilled onions, cider BBQ, brioche, fries, pickles are heavenly delight. There are sidings which you will choose from fresh cut fried, Yukon mashed, smoked veggies, slaw, mac and cheese and others. Not forgetting your cravings for sweets, enjoy our tres leches, sweet milk soaked in cornbread with seasonal flavor, butter pecan waffle and more beverages. A dessert treat indeed!
If you are entertaining guests, you are assured of a nice experience that will be a lot of fun and enjoyment as you savor the joyful meals that will satisfy your guests. We have put together a list of your favorite recipes that are perfect for your occasion. From savory snacks, main course to sweet treats, we have got you covered. So, get ready to enjoy a delicious feast with your friends and family In our Backyard. Book in your reservation now!