Boundary Kitchen Dining, Bar, and Catering Services: Pawtucket's Best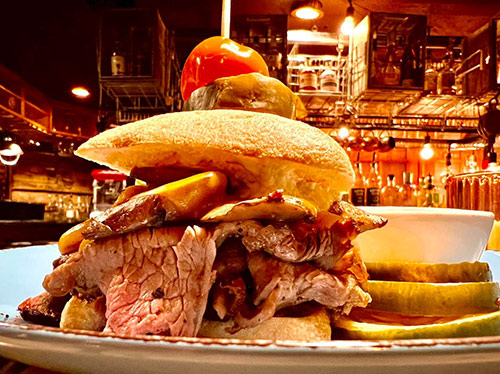 By: / March 30, 2023
The secret is out here in Pawtucket. The Boundary Kitchen & Bar Resto Bar offers the best catering, dining, and after-hour experience that Pawtucket has going today. We deliver delicious creations from meat, chicken, pork, and ribs for every occasion, and it is easy to carry around. You will have handcrafted burgers, smoked BBQ and many more. Enjoy your sip on local brews, cocktails, and our house infusions. Make sure you give us a visit and enjoy your cravings.
With a perfect mix of flavors and textures, we assure you it will be an unforgettable culinary experience. Come check it out and we are sure you will have the best burger to dive in. We offer ourselves the total: burger & melts with beef patty side on with grilled onion, American cheese, lettuce, house pickles and pairs with smash sauce, brioche, fries, pickles. This BKB restaurant serves a mix of spices and a sauce that makes all the difference. And you will enjoy the cured meats, slow smoked, served with pickles, slaw, and barbecue sauce which you will not be able to resist. You have the choice of beef, pork, chicken, ribs, or brisket that comes with different sauces like Carolina (tangy ciger bbq), bourbon (bourbon molasses bbq), sweet heat (cherry chipotle bbq) or stout (mustard) sauce. Try a little tenderness with our chef's plates of petite tender beef, angus ground chuck beef, maple chicken and waffles and a lot more. If you want to add sidings choose from our fresh cut fries, yukon mashed, smoked veggies, slaw, mac and cheese. And for desserts we have tres leches, butter pecan waffles, sweet milk-soaked cornbread, Belgian sugar waffles and more. You will have fun in every bite with our assorted specialties in town.
Your day will get better once you have tasted all the combinations of our bourbon street tips, from the pit cured meats, etc. burgers and melts, bacon flight, etc. We have a unique burger, steaks completely different from the rest of the burgers on our menu. It is perfect for family lunches and dinners. So simple and different from the rest. Come to BKB Resto Bar and try our delicious creations. We also cater parties and other events. For reservations, click here.